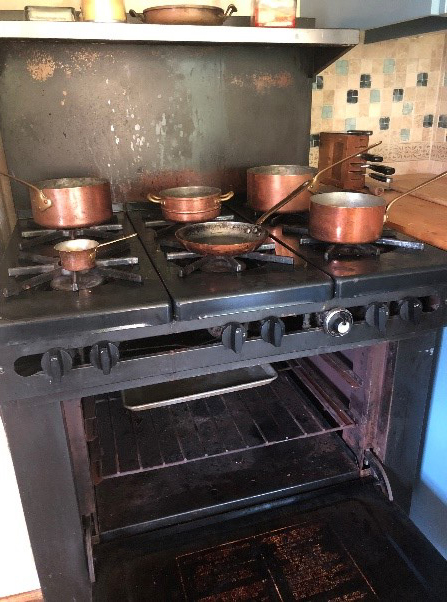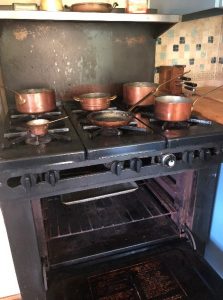 My ideal Saturday night includes one dinner guest who stirs a copper pot of fresh seafood on "the Beast." That's my ancient, restaurant-retrieved gas oven. It is so old no one will even repair it any longer. It is so battered I've developed a pioneer-woman knack for guessing temperatures and baking times. But everyone loves the Beast; and I can't imagine replacing it.
A few gather around Zum Windhound, where everyone helps himself to drinks. Other guests caravan food to table. It's a mix of old-and-new friends joining me for an intimate dinner.
Eventually, we settle down to eat. Tempered by European wines from grapes even older than the Beast, under the glow from flickering candlelight, faces soften and eyes warm. That's when, if we are lucky, time softens, too. We gentle up in ways rarely possible in the hustle of a restaurant.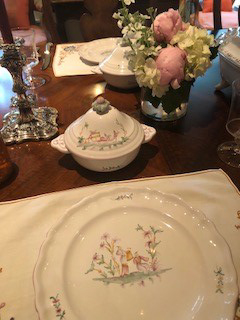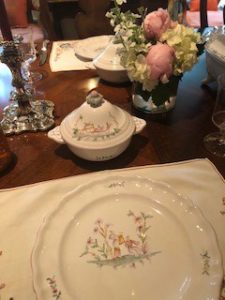 Dinner parties deliver soul and real food, meaning: as welcome as house gifts are: a pot of orchids or homemade pimento cheese, the gift of talk is even better.
Talking in a safe dinner party, instead of burying our barrage of daily thoughts, we can process the relative merits of what we are thinking. We weigh them against the boundaries of another's perspective. When the vibe is right, even when our world views are different, we reach for connection on levels that transcend surface politeness. In such a dinner-party "zone," our hearts expand. we listen, learn, grow, and impact one another.
I once had dinner with the late, great Charlie Tremendous Jones, famous for saying, "You will be the same person in five years as you are today, except for the people you meet and the books you read."
As Charlie implied was valuable, I like a mix of old and new friends to shake up the patterns of conversation. This recent guest-list included a film maker, architect, retailer, designer, developer, professional gamer's mother, and baker- in a wide range of ages. Talking until just shy of the witching hour, here's a small sampling of topics we explored:
From the designer: The merits of Skurastyle.com, a subscriber sponge company whose website is as clever as the concept is clean. Customers receive a monthly box of fresh sponges. A quiz determines your "cleaning" style, and a music playlist features songs such as Car Wash.
From the baker: A top-5 list of spotless Dallas restaurant kitchens who also sport good "vibes"
From the retailer: An unexpected, thumbs-down report about the unscrupulous behavior of a person I'd been making an effort to do business with….
From the filmmaker: A reservations-tip for securing a table at Dallas' most sought-after restaurant Bouillion. How? The GM is his daughter's former college roommate.
From the gamer's mother: An e-sports primer included examples of endorsements and salaries, along with scoop about professional football companies such as The Dallas Cowboys, who are investing heavily into its future
Bringing it home for you: Imagine that this dinner party is a metaphor for your meetings. Well, it is in so many ways – or could be. You, as the leader, need a lot of skills. Here are five idea ideas why and common pitfalls:
Agendas suck the life out of meetings. But, if they have flexibility along with the boundaries, the equation changes. Can you find the balance that keeps a meeting lively, yet moving forward?
Build your team as carefully as you'd pick the guests at a dinner party. Most of us don't. We settle. But think how different your team might be if you thought of it this way. Has possibilities.
Create space for everyone to talk and feel valued. Can you monitor the flow of the conversation, pull the shyer people out and put a lid on the more loquacious? Without shaming or diminishing others?
Unearth the strengths of each person. Can you learn something new about everyone, every single time you meet?
Bridge the gaps and link opportunities others might miss. How effective are you at doing this? You've heard it before: Differences among us yield solutions.
When the party was over, and all was said and done, the guests not only enjoyed being there, we each learned a hell of a lot. After almost five hours, during which time, anyone could have easily and gracefully left, they stayed, because there was never a dull moment.
You may or may not agree with every idea here, not the point. Instead, think differently about your meetings and for better outcomes-as this example indicates.
At the outset of this post, I mentioned that a client from 20 years ago called. In catching up, she said two things about me she's never forgotten.
The first was the Center-Stage program I did for their company. She described it as the best training program she's ever experienced before or after.
The second is a direct hit on this topic. After the Center-Stage program at her company, I stepped in for a few months as an interim executive. She said my dinner-party-style meetings were so unique, productive, and inspiring, she's never forgotten or experienced anything similar. "You got us talking, she said. "We were in the flow; and had the best ideas ever.
How many times in your life has someone called you to say that your, ordinary company meeting inspired them over a 20-year period? You do not have to invite divisiveness, competition, attacks, and humiliation, as some think, to have great meeting success. I see other possibilities.
PS. Creating delicious food is another way to connect with people that satisfies my soul. If you'd like the menu for this recent dinner party, which you could easily recreate, too, send me an email alex@speakingcenterstage.com, with MENU in the subject line. And if you'd like to learn more about Center Stage and how to create outrageously successful company meetings, well, that's a specialty as well.