Are You Ready…to Take Center Stage?
Communicate More Effectively When Results Really Matter
Learn More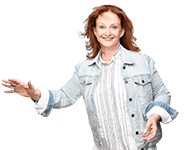 ONE MILLION – or more – presentation meetings happen every day in the States alone. Most of them suck – the life out of everyone in the room. How different and better would life be if these meetings were exciting, inspiring, and productive?
-Alex B. Ramsey
Sign Up to Become a Person of Influence
Get a Free Copy of 10 Tips to Build Your Speaking, Sales and Influence
Start with truth. Build trust with your authentic voice:
Speak your best story. It's always a true story.
FLASHPOINT*: Is your professional impact effective at any time – whether a planned presentation or spur-of-the-moment social post?
ASK: Do you build relationship and trust with every word, every gesture, every time you speak? Can you tell stories so relevant they inspire and engage your clients and colleagues? Do you motivate the best among those whose lives you touch? Are your ideas valued?
IMAGINE: Imagine a world where your unique voice truly makes a difference. Imagine you reliably speak with clarity, passion, and purpose. Imagine living every day with such confidence.
This is no imaginary world. This is CenterStage.
Benefits of Center Stage
Center Stage is where you will learn to reliably speak with clarity, passion, and purpose.

Builds Trust and Credibility

A Tool to Increase Sales

A Bridge Linking Professional Expertise and the Ability to Sell that Expertise

A Sophisticated and Essential Skill for Leadership
Get started by setting up your complimentary consultation with Alex.